Dr Marie MEDIO
Orthodontist Bordeaux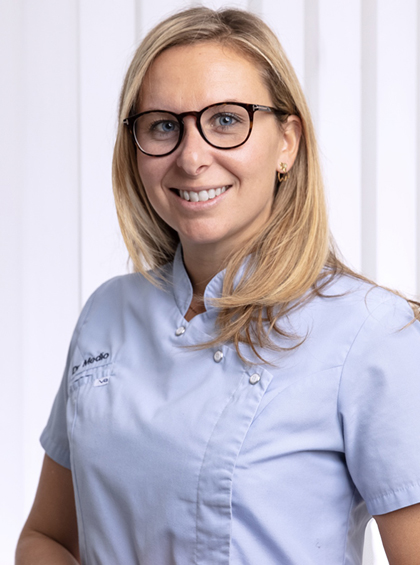 Qualified Specialist in Dentofacial Orthopedics
Coming from a large family of orthodontists, my path was already clear. My grandmother, my aunt and my mother all studied Orthodontics at the University of Paris VII (Garancière). So I wanted to continue the tradition. Very quickly, I became passionate about this discipline and so I multiplied the different trainings in order to be as qualified as possible in this field. I completed my degree in dentistry with a Master's degree in craniofacial developmental biology at Stanford University in California. When I returned from the United States, I got :
Qualifications, Certificates and Diplomas
The qualification in Orthodontics (C.E.S.M.O) after 4 years of specialization at the University of Paris 7.
a Certificate of Higher Education (C.E.S.) in Dento-Facial Orthopedics (ODF)
A University Diploma in Lingual Orthodontics (D.U.O.L) in Paris
A Damon Master in Madrid
————
Wishing also to put, by passion, my skills at the service of dental surgery students, I was a university hospital assistant in Bordeaux from 2015 to 2019.
With the arrival of our little twins, my husband and I decided to leave Paris to be closer to the family vineyard in the côtes de Bourg. We are delighted to live in this beautiful region.